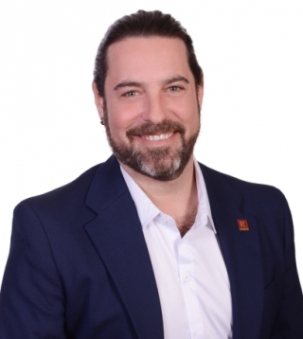 Denis Bernier
REALTOR®| Agent Immobilier
RE/MAX Residex Enterprises
506-473-6960

506-479-0327

506-473-5453
About Denis
Born and raised in Grand Falls, NB, Denis wanted to see the world and started working in the airline industry.  After decades of city life, he eventually decided to come back to his roots in Grand Falls, NB where his heart is.  He has 25+ years of experience in Customer Service, which shows his commitment to serving others in the community. His interests include travel, camping, snow sports and music. In his down time, he enjoys spending time with his family, his friends, and loves to paddle out on his kayak. He has a genuine passion for real estate and believes everyone should be able to experience homeownership. His focus is on relationship building and his unwavering work ethic along with honesty and integrity helps him to connect with clients. He knows the process of buying or selling a home can be stressful and hard to navigate, and he will go above and beyond to make your experience as pleasant as possible. 
Whether you're looking to buy, sell or invest, he would love to be a part of your journey! You can reach out to Denis at denis.residex@gmail.com or 506-479-0327. 
 -------------------------------------------------------------------------------
 
Né à Grand-Sault, NB, Denis voulait voir le monde et a commencé à travailler dans l'industrie du transport aérien. Après plusieurs années en ville, il a finalement décidé de revenir à ses racines à Grand-Sault, NB, la région qui lui tient plus à cœur. Il a plus de 25 ans d'expérience en service à la clientèle, ce qui démontre son engagement à servir les autres dans la communauté. Ses intérêts incluent les voyages, le camping, les sports de neige et la musique. Dans ses temps libres, il aime passer du temps avec sa famille, ses amis et adore les sorties en kayak. Il a une véritable passion pour l'immobilier et pense que tout le monde devrait pouvoir vivre l'expérience de l'accession à la propriété. Il se concentre sur l'établissement de relations et son éthique de travail inébranlable ainsi que son honnêteté et son intégrité l'aident à connecter avec les clients. Il sait que le processus d'achat ou de vente d'une maison peut être stressant et difficile à naviguer, et il ira au-delà pour rendre votre expérience aussi agréable que possible.
Que vous cherchiez à acheter, vendre ou investir, il aimerait faire partie de votre voyage! Vous pouvez joindre Denis à denis.residex@gmail.com ou au 506-479-0327.